1st Place at the Saxon Master Joiner Awards
Paul Strobel, an employee of Deutsche Werkstätten, won first place in this year's 'Saxon Master Joiner Awards'. The 35-year-old convinced the expert jury with his masterpiece - a wall-mounted bureau and workstation - and outshone 13 other nominees from the chamber districts of Dresden, Leipzig and Chemnitz. They had all taken their master craftsman exams in 2019 and 2020.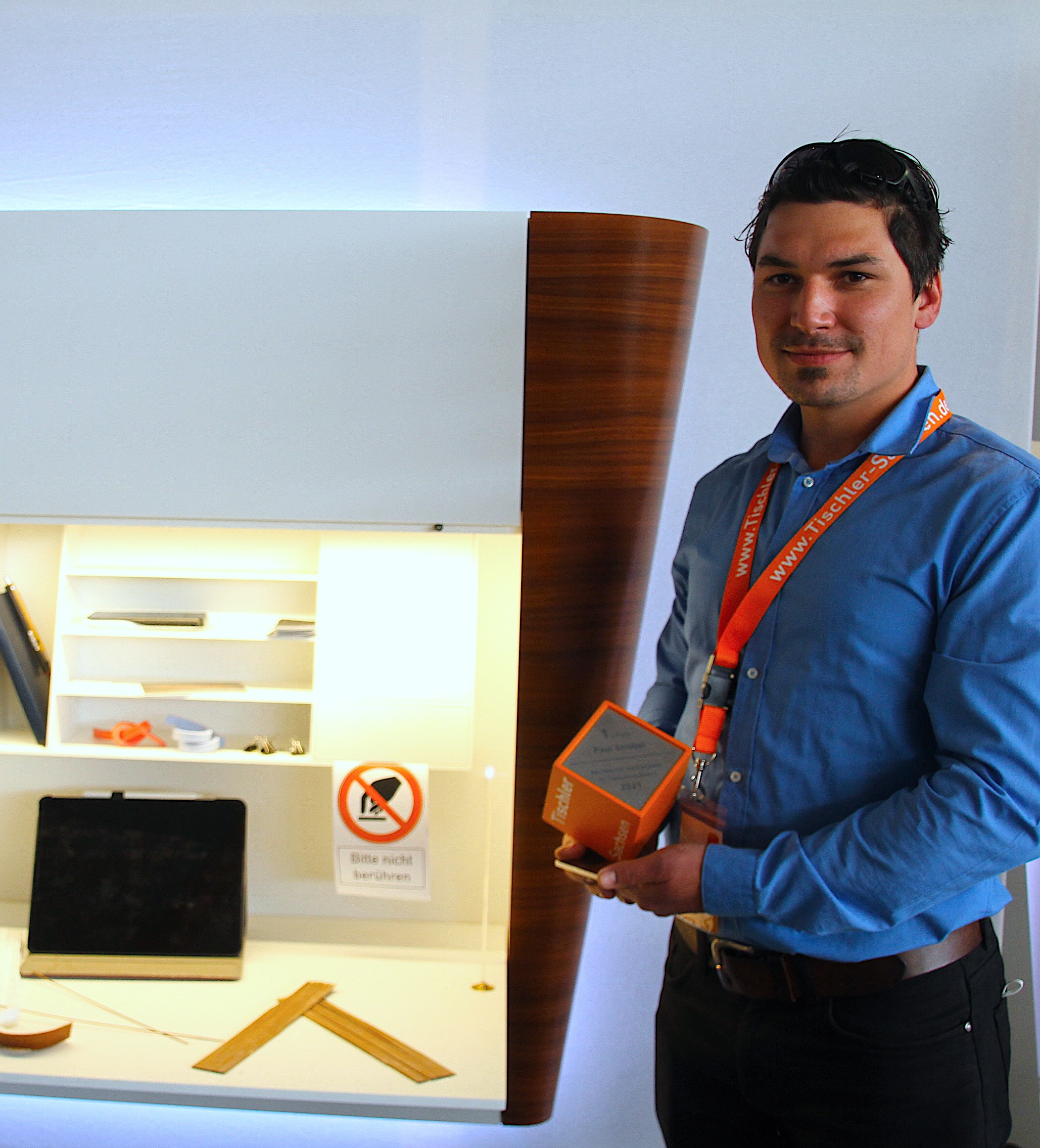 According to Jan Eckoldt, Managing Director of the Fachverband Tischler Sachsen (Saxon Association of Cabinetmakers), the courage and originality to develop a piece of furniture "that is not only up-to-date in terms of design, function, material and execution, but also tries out something new" were particularly noteworthy. Paul Strobel designed the writing desk and workstation for his living room at home. To be able to quickly restore a sense of order, he opted for a version with a drop-down worktop. It was also important to him that the piece of furniture looks beautiful and elegant, but still fits into the existing room concept. It is, nevertheless, an eye-catcher with its two conical, rosewood-veneered side carcasses.
These carcasses were, alongside the special fitting for the flap that he developed himself, a special challenge. "Actually, I wanted to veneer a carcass as a cone for my journeyman's piece in 2008. My master at the time advised me against it because it was too complicated. For my masterpiece, I took up the idea from back then and implemented it," says Paul Strobel with satisfaction.
In only four weeks, he built the 90 kg piece of furniture, whose middle section is made of white composite material, both in Deutsche Werkstätten's production hall in Dresden-Hellerau as well as in his own workshop. "I would also like to thank all the other cooperation partners for their exceptional support," says Paul Strobel.
When he submitted his masterpiece last July, the examination committee immediately recognised his special achievement and nominated him for this national competition.
Paul Strobel has been employed at Deutsche Werkstätten since 2009 and works in the Client Liaison department, which fits out and refits existing luxury yachts in particular. With his victory, he follows many successful colleagues who have won important joinery competitions in recent years. As recently as November 2020, the journeyperson Clara Kaiser won the statewide competition "Die gute Form".
Photos: Fachverband Tischler Sachsen/ Katrin Gutzer